T-minus 2 days until I depart to Gaul, with the galling gauntlet I am throwing down: to find the stinkiest French cheese imaginable.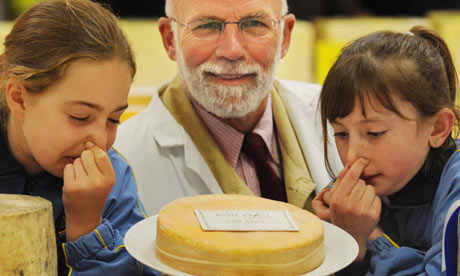 As readers of this fair blog may recall, while in Taipei,
Don Pablo Quijote was on a quest to find the stinkiest of the stinky tofu
, and did battle with
some pretty putrid stuff.
I am planning on taking it to the next level with search to find the stinkiest French cheese in chez Paris. I can remember from my last stint in
La Ville-Lumière (et Fromage)
passing by a cheese shop and being bowled over by the winds of
fromage
funk escaping from the little
fromagerie
like a wave of biological warfare.
So, I am off on a gastrodiplomacy mission to find the most potent piece of cheese imaginable. Wish me luck.
Meanwhile, the
fromagistas
in
États-Unis
were dealt a recent blow by
FDA bureaucrats, who banned Mimolette on the grounds that mites might inhabit the cheese delight
.
Sacre bleu!
Stupid FDA bureaucrats, do you honestly think that cheese lovers of such magnitude as to pay $20 per pound of Mimolette care about the possibility of mites?
Allez boire des égouts de Montmartre
!